Euroshore position statement
Ballast water is an environmental issue that can transform and change the biodiversity of some port areas, and furthermore, entire coast lines.
Euroshore welcome all initiatives to minimize the problems, and our members are willing to be part of the solutions.
However, the law enforcement in all ports is still to be seen, and as a consequence, the economics of potential investments from PRF's operators are also still to be proven.
The technology to treat ballast water at reasonable prices and flow-rates, is doing its first steps, and will most likely have a incremental evolution with the mentioned law enforcement.
Euroshore will work together with all the actors in the sector, to build-up reasonable solutions, which can be available in all of PRF.
---
Background
Even though, the danger posed by alien species to the marine environment had been realized long time ago, it was brought to the international agenda as early as the end of nineteenth century. Several scientific studies were carried which indicated the problem of the hazardous effects of alien species carried by ship ballast water and sediments. The first worldwide conference dealing with the issue was the Rio Conference held in 1992. The matter was accepted as an international problem by UN. The outcomes of that conference created an international framework on management of ballast water and sediments as well as a legal basis for meeting the needs rewardingly.
Today the increasing maritime traffic and enlarging ships cause larger volumes of ballast water and sediments to be carried among different seas and increases the hazard against the marine environment caused by harmful aquatic organisms and pathogens. These damages now turn out to be an increasing problem especially in closed seas like the Black Sea.
There is work going on under the IMO umbrella to come to a practical approach which is based on scientific work. Main goal is to prevent alien invasive species to be transported by ballast water and sediments as well as to put into effect a legal regulation to force preventive measures. As a result, BWM 2004 Convention was prepared. The Convention requires the ships which are within the scope of the Convention to implement a detailed ballast management plan in line with their properties and to document accordingly and to reduce the damage on the marine environment by neutralizing the aquatic organisms in the ballast water by carrying out the processes which are explained in the Convention in detail. As of September 8th 2017, the Convention has entered into force.
IMO-Ballast Water Management Convention
The Ballast Water Management Convention, adopted in 2004, aims to prevent the spread of harmful aquatic organisms from one region to another, by establishing standards and procedures for the management and control of ships' ballast water and sediments
Under the Convention, all ships in international traffic are required to manage their ballast water and sediments to a certain standard, according to a ship-specific ballast water management plan. All ships will also have to carry a ballast water record book and an international ballast water management certificate. The ballast water management standards will be phased in over a period of time. As an intermediate solution, ships should exchange ballast water mid-ocean. However, eventually most ships will need to install an on-board ballast water treatment system.
A number of guidelines have been developed to facilitate the implementation of the Convention.
The Convention will require all ships to implement a Ballast Water and Sediments Management Plan. All ships will have to carry a Ballast Water Record Book and will be required to carry out ballast water management procedures to a given standard. Existing ships will be required to do the same, but after a phase-in period.
Parties to the Convention are given the option to take additional measures which are subject to criteria set out in the Convention and to IMO guidelines
The Convention is divided into Articles; and an Annex which includes technical standards and requirements in the Regulations for the control and management of ships' ballast water and sediments.
General Obligations
Under Article 2 General Obligations Parties undertake to give full and complete effect to the provisions of the Convention and the Annex in order to prevent, minimize and ultimately eliminate the transfer of harmful aquatic organisms and pathogens through the control and management of ships' ballast water and sediments.
Vessels have till 8.09.2024 to install an IMO approved ballast water treatment installation that meets the D-2 standard. As long as the BWT installation is not installed, ships should exchange their ballast water according to the instructions of the competent authorities.
Parties are given the right to take, individually or jointly with other Parties, more stringent measures with respect to the prevention, reduction or elimination of the transfer of harmful aquatic organisms and pathogens through the control and management of ships' ballast water and sediments, consistent with international law. Parties should ensure that ballast water management practices do not cause greater harm than they prevent to their environment, human health, property or resources, or those of other States.
Reception facilities
Under Article 5 Sediment Reception Facilities Parties undertake to ensure that ports and terminals where cleaning or repair of ballast tanks occurs, have adequate reception facilities for the reception of sediments.
If the ballast water is not treated by an IMO approved system on board, or if the ship was not able to exchange its ballast water in line with the legislation, the non-compliant ballast water should be handled as follows:
kept on board (which probably would impact the loading of cargo). In that case port state control should inform the competent authorities in the next port of call;
should be given to another ship that will treat the ballast water, or will discharge it in the same ecosystem as where it came from;
should be given to a port reception facility ashore that will handle the ballast water. The reception facility can be fixed or mobile, but should treat the ballast water in such a way that it will meet (minimally) the IMO Standard.
In shipyards where cleaning or repair of ballast tanks occurs, reception facilities to ballast sediments should be developed.
Research and monitoring
Article 6 Scientific and Technical Research and Monitoring calls for Parties individually or jointly to promote and facilitate scientific and technical research on ballast water management; and monitor the effects of ballast water management in waters under their jurisdiction.
Survey, certification and inspection
Ships are required to be surveyed and certified (Article 7 Survey and certification) and may be inspected by port State control officers (Article 9 Inspection of Ships) who can verify that the ship has a valid certificate; inspect the Ballast Water Record Book; and/or sample the ballast water. If there are concerns, then a detailed inspection may be carried out and "the Party carrying out the inspection shall take such steps as will ensure that the ship shall not discharge Ballast Water until it can do so without presenting a threat of harm to the environment, human health, property or resources."
All possible efforts shall be made to avoid a ship being unduly detained or delayed (Article 12 Undue Delay to Ships).
Actual situation
Ships that are equipped with an IMO approved ballast water treatment system should treat the ballast water (at the uptake or discharge) before it will be released. If the vessel is not yet equipped, it should exchange its ballast water under the conditions issued by the competent authorities.
We should expect, that taken into account, the importance of prevention invasive alien species in vulnerable ecosystems, that a lot of attention will go to a correct implementation of the BWM 2004 Convention.
Since the entry into force we see limited progress in issuing clear instructions to all stakeholders involved. In some countries (Australia, USA,…) advanced notifications have to be made to the competent authorities about the status of the ballast water on board. Such a notification would ease the inspection of a risk full ship. At this moment no European port/country has introduced such a notification form.
Port control inspectors are not performing at this moment systematic inspections on the ballast water carried on board (maybe with the exception of environmental inspectors in Ukraine). It is, indeed, not so easy to sample and analyse ballast water before it will be discharged in the port. Additional equipment and training will be needed, and not that many administrations have invested in such training.
However, IMO-guidelines are issued in MEPC 252(67) and thus a common approach for enforcement/ inspection can be worked out.
As a result, we could conclude that the enforcement is lacking and with a few exceptions in some Dutch and French ports, no reception facilities for ballast water are available. We see that ballast sediments can be handled as hazardous waste in a few ports, but even a cluster of shipyards in Yalova and Tusla, has no reception facilities for sediments.
Port reception facilities
Private initiative to use a mobile ballast water treatment system
Ship owners are now able to treat their unmanaged ballast water or load cleaned ballast water in eight different Northern European ports using Damen's IMO certified InvaSave ballast water management system. This ballast water reception/bunkering service will be available in Rotterdam, Amsterdam, Brest, Dunkerque, Vlissingen, Den Helder, Stellendam and Harlingen.
It is the world's first external ballast water treatment unit designed primarily to offer ship owners a port-based ballast water solution. With this cooperation, vessels coming into these eight ports will be able to take advantage of a one-stop-shop for their ballast water treatment requirements.
"Since the IMO Ballast Water Management Convention was enforced on the 8th of September this year, some ship owners are already facing delays in ports due to unmanaged ballast water. For example, unmanned barges do not have the capabilities to perform mandatory ballast water exchanges; the D1 Standard.
"With a port-based ballast water/ bunkering service we can both accept used ballast water for disposal, as well as fill up ballast water tanks with certified clean water at the port of departure. As a result, this eliminates the need for ballast water exchange."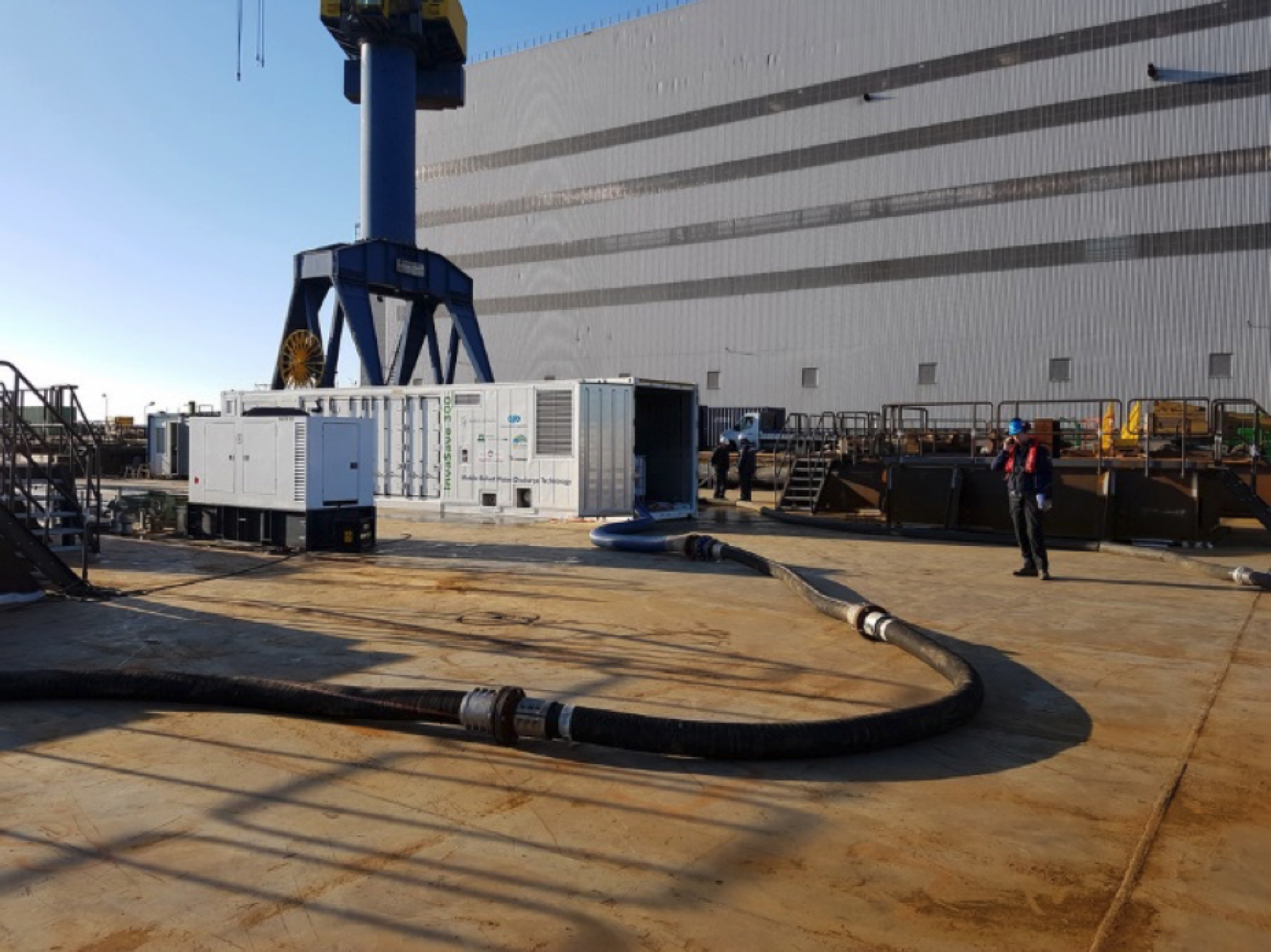 Other Port reception facilities
Port reception facilities are willing to extend the scope of their services by providing ballast water treatment solutions. However, with a lack of enforcement it is rather difficult to have a sound economic basis for such investment.
If, in principle, all ships will be equipped with a ballast water treatment system in 2024, then such installation will be only used in case of a break down of the machinery. If, this happens once on 100 ships, than such investments can only be profitable in the main ports. In other ports the payback time for such investments will be unreasonable high.
Conclusion
Several Euroshore members see the investment in a mobile port based ballast water treatment system as a useful diversification of their activities towards the shipping industry. However, the actual situation makes it difficult to justify such an investment, as the enforcement is lacking behind as well as a clear situation about the potential use of such a service.