Ecoslops has an innovative technology, enabling the transformation of maritime oil residues into valuable new fuels and light bitumen. A first micro-refining plant is already fully operational since June 2015 at the Port of Sinès, Portugal.
Ecoslops technology
The Ecoslops technology is based on a perfect knowledge of the processes of collection, treatment and refining of slops and sludges and on a major innovation which combines treatment of maritime hydrocarbon residue and oil refining techniques.
With its integrated and innovative approach, Ecoslops offers port infrastructure, slops collectors and ship owners an economic and ecological solution, complying to European and other international regulation regarding waste collection and slops treatment. As such, Ecoslops has signed business agreements in particular with ship owners and European collectors.
The treatment unit of hydrocarbon residue, a major innovation in the sector, is the heart of Ecoslops' technology. Thanks to its refining process, Ecoslops is able to transform collected slops into perfectly usuable new products such as solvents, gas oil and Intermediate Fuel Oil (IFO 380) as well as into a Light Bitumen (XFO). Ecoslops' industrial site is the first company in the world to produce new valuable fuels from oily residues.
Ecoslops' technology also respects international standards regarding gas emissions as well as liquid and solid discharges.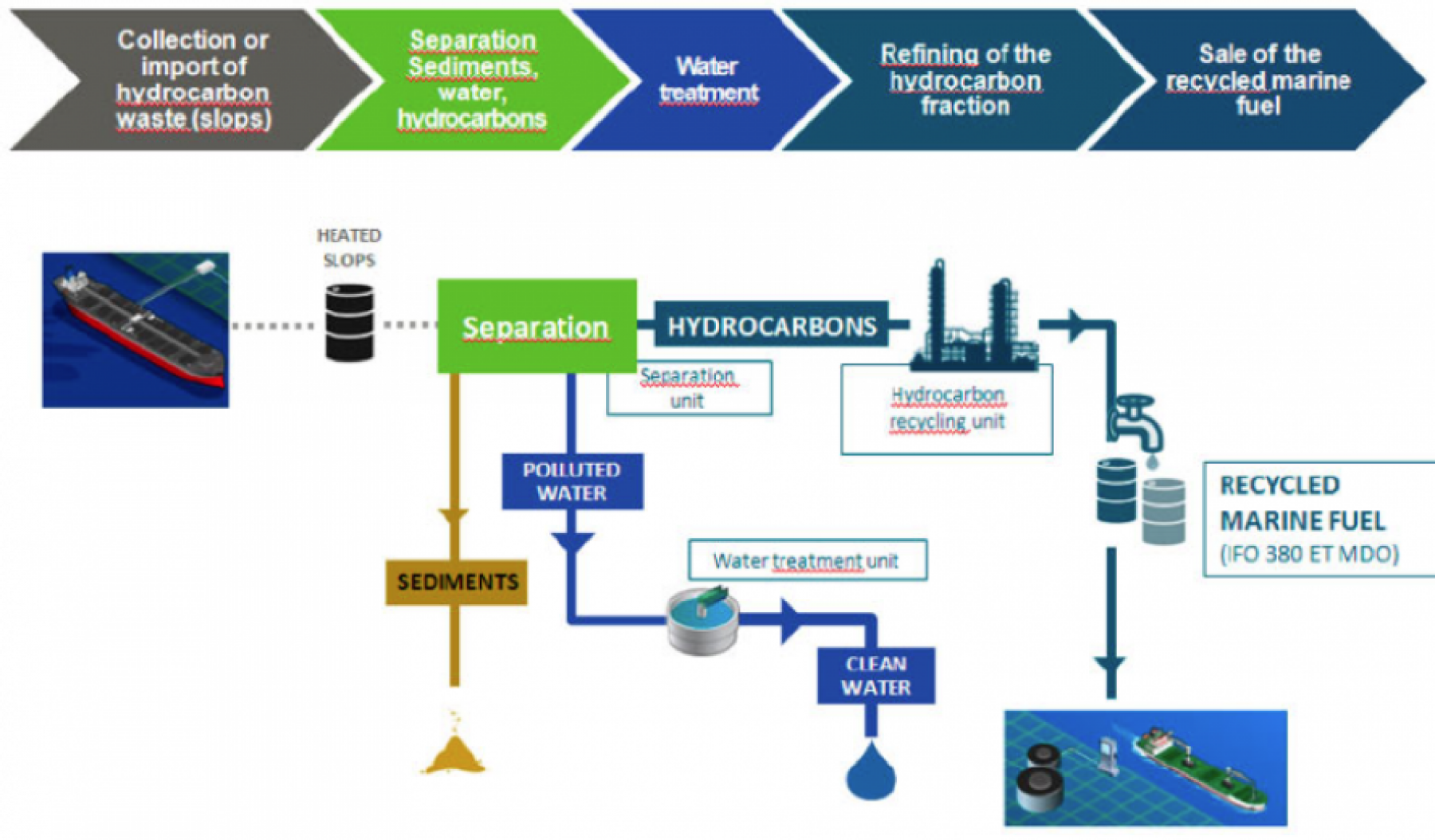 Ecoslops infrastructure
The site of Sinès is an integrated industrial complex dedicated to collection, treatment, production and storage. It has a treatment capacity of more than 30,000 tons of hydrocarbon fraction per year.
It is made up of three main "blocks": first, the separation unit, further, the treatment unit for polluted waters, which has a capacity of more than 600 m3 per day and treats the water in the slops as well as waste waters from the Port of Sinès, and finally, the P2R column, with a treatment capacity of 100 tons per day of hydrocarbon fraction.