Tradebe is an expert in the management of ship waste, located strategically in five strategic ports in Spain. Its core activities are collection, cleaning, transportation, storage and fuel recovery. More than 100,000 metric tons are managed at its facilities in Spain.
Some key features
In 2012 sales were around 350 million euro in the environmental area, distributed by country as follows: Spain 35%, United Kingdom 30%, United States 35%.
Tradebe employs more than 1900 people worldwide in 60 treatment plants distributed around Spain (26), United Kingdom (23), France (2) -where it offers on site services- and the United States (17).
In 2012 Tradebe invested about 15 million euro on improvements in its facilities worldwide, in addition of the investment on Tradebe Port Services terminal in Barcelona.
Tradebe adheres to the International Convention for the Prevention of Pollution from Ships (MARPOL), the main international convention covering prevention of pollution of the marine environment by ships from operational or accidental causes.

Tradebe holds concessions in 5 Strategic Ports in Spain,
offers collection and treatment facilities,
barge collection services and
holds a 4,5 MW Cogeneration Plant in Port Ecorel
TRADEBE PORT SERVICES (TPS)
The Tradebe terminal covers two parcels, located on the Energy Quay at the Port of Barcelona. It counts 29 storage tanks, providing a total capacity of 453m³. The two parcels are connected: the first is enabled to store lighter hydrocarbons such as kerosene and gasoline, whereas the second stores fuel oils and diesel. This facility represents an investment of 65 million Euros.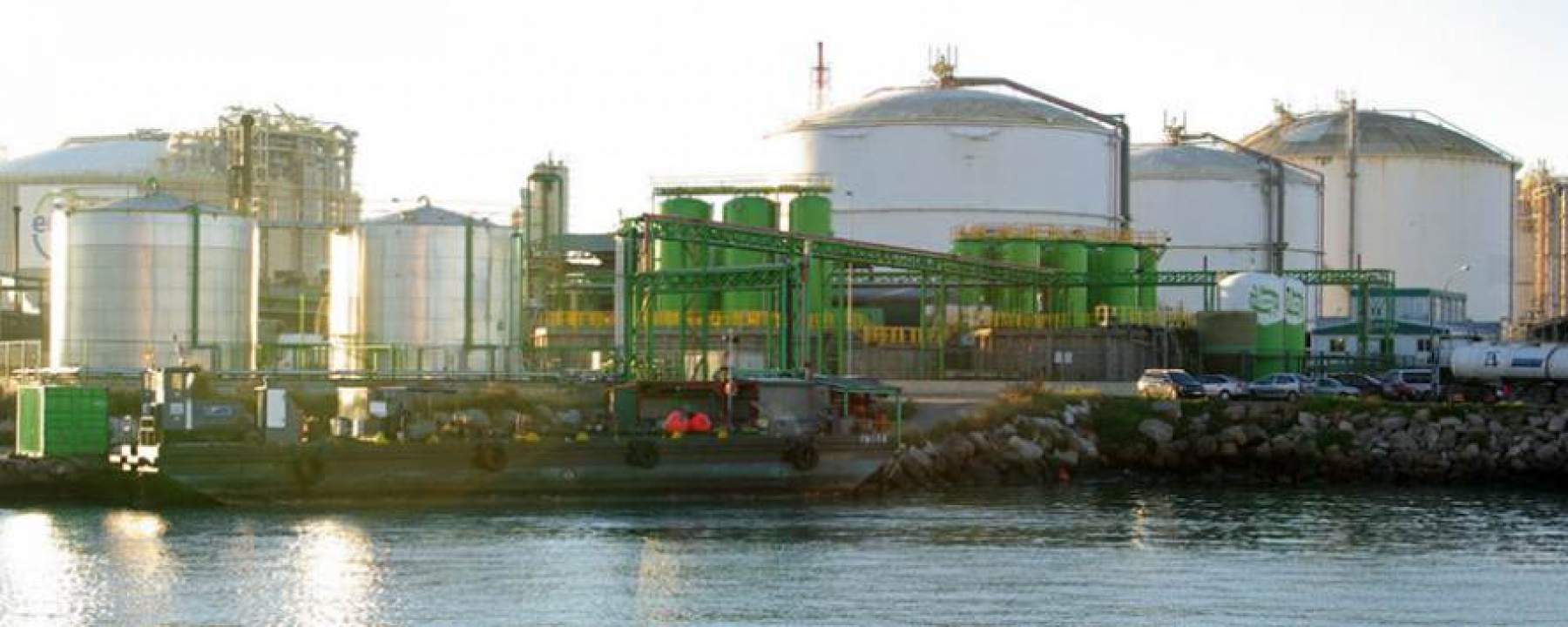 Connected infrastructrure
Three jetties, connections to the network of the CLH company and five charging tank stations secure efficient terminal connections. The 34B jetty connection,built by the Port of Barcelona in 2011, offers a draught of 16 metres. It allows hydrocarbon vessels to arrive to the terminals in Barcelona that do not have access to any other terminal in the Mediterranean sea –with the exception of refinery ports. A key infrastructure for the Port of Barcelona, the jetty offers services to vessels with a hold capacity of 175,000 tonnes. The five charging tank stations allow trucks of 24 tonnes to be loaded in less than 20 minutes and to distribute the product to the nearest locations.
Speed, Mixing and Flexibility
The TPS facilities have been designed taking three basic principles into account: Speed, Mixing and Flexibility. Speed in loading and unloading vessels, ability to mix products and flexibility on the products that can be stored in the terminal.
Speed becomes increasinly important for the optimization of in port vessel operations. The design of Tradebe pipes, pressure pumps and valves enable to reach very high volumes in its operations, offering an excellent turn around in both the loading and unloading of the vessels.
Mixing. It is essential to obtain the exact specifications and the appropriate mixtures of product for the oil product operators. Therefore, a large part of Tradebe engineering has been focused on optimising these mixing systems.
Flexibility. The optionality concept provides a very important added value to customers that can switch products in the same tank, and this is synonym to improvement in our services.